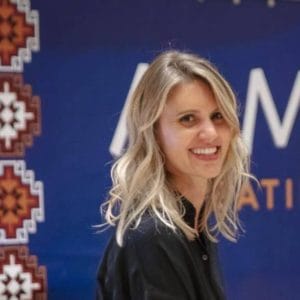 The Local Learning Board of Directors is pleased to announce that Halle Butvin was elected to the Board at the Fourth Quarter meeting, held December 14th for her first, three-year term.
Halle Butvin is director of special projects at the Smithsonian Center for Folklife and Cultural Heritage. She leads the Center's cultural sustainability work around the world, designing collaborative projects to support communities in their efforts to safeguard their heritage, promote cultural expression, and elevate cultural practices to improve local economies. In 2018, she co-curated and fundraised $1.1M for the Armenia: Creating Home program at the Smithsonian Folklife Festival, a two-week celebration of Armenian cultural heritage on the National Mall in Washington, DC. An experienced trainer, for more than 15 years Halle has designed and led creative industries projects, including festival-making, artisan craft development, enterprise development, and organizational development for non-profits, in Europe, East Africa, and several countries across Asia. When she's not on Zoom calls, you can find Halle hiking, cooking, reading, or hanging out with her little dog, Fiddle.
Local Learning Board Members Marcus Cederström and Ellen McHale (Local Learning Secretary) were also re-elected into their second three-year term.